We're located across the U.S. to better serve our clients.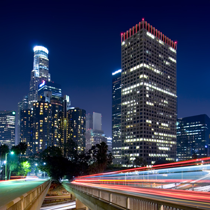 Los Angeles, CA
626 Wilshire Boulevard
Suite 820
Los Angeles, CA 90017
Office Information
T: (800) 327-7325
T: (800) 3 APPEAL
T: (213) 680-2300
F: (213) 680-1074

Counsel Press launched our west coast regional operations in January of 2004 to focus on meeting our clients' needs in our nation's busiest legal market and largest federal appellate circuit. From this location we specialize in filing and service within the Supreme Court of California, each of the six districts of the California Courts of Appeal and the United States Court of Appeals for the Ninth Circuit.

The Los Angeles office is one of Counsel Press' sophisticated production facilities that produces our client's print and electronic filings. We employ the latest technology to connect, in real-time, each of our production facilities with our New York headquarters location so that we may offer all of our resources to each of our clients from coast to coast and in all time zones.