SEARCH FOR A TEAM MEMBER

Select name
Select department
Select location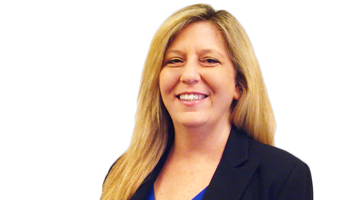 Alaine Patti-Jelsvik, Esq.
Senior Appellate Counsel
Office:
(213) 680-2300
Toll Free:
(800) 327-7325
Facsimile:
(213) 680-1074
Email:
apatti-jelsvik@counselpress.com
Office:
Los Angeles, CA



Alaine Patti-Jelsvik specializes in assisting Counsel Press clients in their matters within the California and Nevada appellate courts, and throughout the 9th Circuit Court of Appeals.

Ms. Patti-Jelsvik joins Counsel Press' Los Angeles Staff Counsel and Appellate Paralegals in offering our clients unmatched expertise with their appellate filings. She is a seasoned civil trial litigator, licensed in California and has handled cases throughout the California Superior Courts, Nevada Justice and District Courts, the 9th Circuit, and Appellate Divisions. Ms. Patti-Jelsvik's practice historically focused on collection litigation, FDCPA defense, personal injury, insurance defense, and premises liability cases.

Alaine earned her law degree from Whittier College School of Law, with honors, ranking 5th in first year, and later joined the Whittier Law Review as staff editor. She also published her Law Review article on the subject of education and immigration in California. Alaine served as the President of the Student Bar Association and 9th Circuit Lieutenant Governor of the Law Student Division of the American Bar Association where she participated in the elimination of race discrimination by law student organizations. Also while in law school, Alaine was a student mentor and research and teaching assistant, and she interned for the Los Angeles City Attorney, Civil Division.
James McKiernan San Luis Obispo, California says:
CounselPress staff are super knowledgeable, efficient, timely, understanding under stress, and very personable. These are rare commodities in the hectic legal milieu that we operate in. So I thoroughly enjoyed working with them and will continue to use Counsel press In the days and appeals that will come.
Katherine B. Warwick
Katherine Warwick Attorney at Law
Altadena, CA says:
As this was my first case with Counsel Press, I particularly appreciated the comments and support from Alaine Patti-Jelsvik.
Ngozi E. Bolin
Bolin Law Firm
Los Angeles, CA says:
Alaine is just amazing.
Specializing in
Arizona Supreme Court
Arizona Court of Appeals
Supreme Court of California
California Court of Appeal First District
California Court of Appeal Second District
California Court of Appeal Third District
California Court of Appeal Fourth District
California Court of Appeal Fifth District
California Court of Appeal Sixth District
Nevada Supreme Court
United States Court of Appeals for the Ninth Circuit
United States Court of Appeals for the Tenth Circuit
Supreme Court of the United States
---
Admitted
State Bar of California
United States District Court for the District of Nevada
United States District Court for the Northern, Central, Eastern and Southern Districts of California
---
Education
Whittier College, School of Law, J.D.
University of Southern California, B.A., Political Science, cum laude
Los Angeles Valley Community College, A.A., Communication, cum laude
---
Affiliations
Los Angeles County Bar Association
---
Publications
Editor, Whittier Law Review. Published: Comment, Re-Educating the Court: Proposition 187, Immigration and Education, Vol. 18:4, Whittier Law Review (Spr. 1997).
---
---