For the past seven years, Counsel Press has been voted Best Appellate Services Provider, Best Appellate Printer and Top 3 Legal Research Service by the legal community in the New York Law Journal's rankings.
Any law firm staff member, judges and those who directly use Counsel Press' services may vote in this survey. There is no geographic restriction. If we have provided you with the best service, please share that in the 2017 Rankings survey.
Please take a moment today to submit your vote.
If we have provided you with the best service, please share that in the 2017 Rankings survey. Counsel Press is nominated in THREE categories:
Best Appellate Services Provider - Page 3, Question 5
Best Appellate Printer - Page 3, Question 6
Best Legal Research Service - Page 12, Question 1
If you do not wish to complete the entire survey, you can make your choices in select categories, then click "Next" at the bottom of each page through page 14, then click "Done."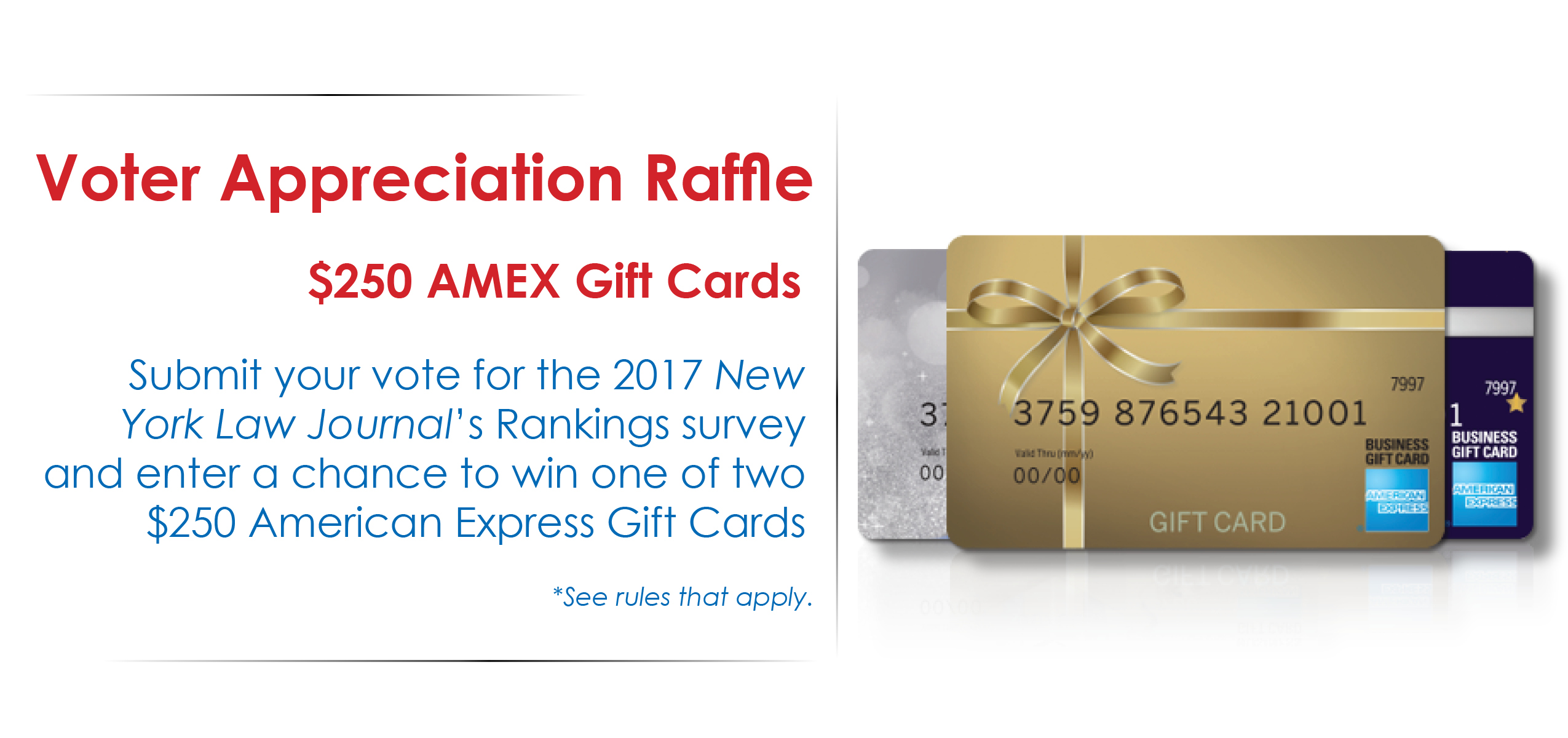 *Contest not sponsored by and not affiliated in any way with the New York Law Journal.
VOTER APPRECIATION RAFFLE: In appreciation of participants' time and interest, Counsel Press will hold a Voter Appreciation Raffle. All participants in this year's survey, regardless of what service provider(s) they vote for, can enter the Counsel Press Voter Appreciation Raffle for a chance to win a $250 American Express Card.
RAFFLE RULES: You must complete the 2017 New York Law Journal Reader Rankings online survey (link provided above) and e-mail the screenshots of the completed page 2 (Your information) and last page (Thank you for taking this survey) to marketing@counselpress.com or fax the printed screens to 718-696-0630. Entrants must be a law firm staff member, judge or direct user of Counsel Press' services and use their own name and work e-mail address to complete the survey. Voting for specific provider(s) will not increase your chances of winning the prize. Raffle begins May 1, 2017 and ends June 5, 2017.
RAFFLE PRIZE: Two winners will receive one of the stated prizes, on a first come, first served, basis. The prize must be claimed within one week of notification or it will be awarded to another entrant selected in the same manner as the winner of the unclaimed prize. The prize is non-transferable, non-negotiable and not redeemable for cash, credit or merchandise.
RAFFLE WINNER: Two winners will be selected by random drawing from among eligible entries. The winners will be notified on or before June 25, 2017 by their e-mail addresses used for the raffle. Odds of winning depend on the number of eligible entries received. Entrants agree Counsel Press Inc. has the sole right to decide all matters and disputes arising from this raffle and that Counsel Press' decision is final and binding.
Counsel Press serves our attorney clients from within 12 physical locations nationwide, including 6 with state-of-the-art production facilities. Our services focus on the rule compliant service and filing of all appellate matters, and also include divisions specializing in filing within the Supreme Court of the United States, cutting-edge eBrief technology, on-demand legal research and writing for our attorney clients and real estate development and offering plans. Last year Counsel Press assisted over 7,000 customers, located within all 50 states, with over 8,500 filings in 81 jurisdictions nationwide and internationally.