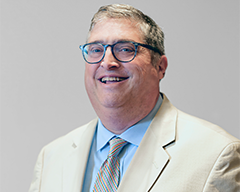 Recently, there have been a couple of anniversaries that have made me think back to the way things have changed in the appellate practice world over the past few decades. Last weekend, I attended the 125th Anniversary Party for the University at Buffalo Law School. I remember attending the 100th Anniversary Party of the Law School when I was a first-year law student. That party was held in the Ellicott Square Building lobby, the building where I work every day.

The other anniversary is a personal one. It has been 20 years since Counsel Press first had a presence in the Buffalo area and, over that period, I have been our staff counsel within that location. I can recall being a few years out of law school with a little practice under my belt, starting out on a new venture with Counsel Press, literally beginning with boxes and finding a small office space downtown. This was something new for me and, frankly, was not something that I had ever anticipated doing in my years at law school. Twenty years later, I am very pleased to have chosen the career path that I did and have found my work to be very rewarding.

Prior to opening the Buffalo office in May of 1992, Counsel Press had handled a few appeals out of the Buffalo area, significantly those surrounding the "domed stadium" case here in Erie County. This was a 75 volume appeal which, at the time, was the largest civil appeal prepared in New York State. The appeal was derived from litigation over a domed stadium that was never built downtown. This appeal was handled without a physical presence in Buffalo at a time when there wasn't any internet or e-mail. With the size and complexity, despite lacking our present day conveniences, we still successfully handled the production of this appeal. This was one of the factors that led Counsel Press to Buffalo.

As I made my efforts here to build the business in Buffalo, my focus was always to get out in the community and meeting the lawyers, paralegals and office staff and to build relationships. If I had to say what has been the best part of my job, the answer would be building relationships with the wonderful attorneys and paralegals that I have had the pleasure of working with over the years. It is also rewarding to feel that, in some small way, I am, perhaps, providing a benefit that is being appreciated.

After the purchase of Counsel Press by The Dolan Company, we had a new partner in The Daily Record out of Rochester, NY. The Daily Record had a very strong tradition of preparing appeals in the Rochester market and that portion of their business became part of Counsel Press. LaFon Howard manages our Rochester location and has been in the appellate business for 30 years. Between LaFon and I, we have 50 years of experience offering appellate services in Buffalo and Rochester. My assistant, Lora Reinhardt, has been with me for 19 years and she has been servicing these areas, as well. No other appellate service in the upstate area offers the experience that Counsel Press provides.

Shortly after the opening of our Rochester office, Counsel Press acquired The Reporter Company, an appellate service company that operated out of Walton, NY with a satellite office in Syracuse. Counsel Press has gone from being a newcomer to the market leader across the upstate region. We have always strived for quality and expertise with excellent customer service.

Over the years, I have seen many changes take place in the industry. When I started in April of 1992, everything was done with paper. E-mails were still a few years away as was the internet. I recall the first few instances of attorneys e-mailing briefs to our office in NYC and how often it was a project to make sure that the brief printed out exactly as it was sent, since we were not dealing with scanned documents or pdfs. We would have our clients fax a copy of the brief, as well, to make sure everything appeared as it should. What today is a simple one-step process, in 1994-1995 was far more complicated. Today, we receive briefs via e-mail the day they are due, which are printed and filed through our Rochester or New York City office.

Years ago, before word processors, it was very common to have a brief prepared in a typeset format in a booklet size. I can remember doing a few for the Fourth Department as they made a wonderful impression and had a very professional style. At one point, for the Second Circuit, it used to be advantageous to use a typeset style as you were able to include more words in your brief (this was back in the day when there were page limits at that court instead of word limits). With the advent of word processing, the need for typeset briefs diminished, though we still have attorneys who ask about having briefs done in the booklet format.

We have seen the arrival of electronic filing and service in the New York appellate courts and at the Second Circuit. Counsel Press remains at the forefront in preparing electronic files and handling the filing and service of appellate documents. While we are yet to see an electronic requirement at the Third or Fourth Department, when changes come, you can be certain that Counsel Press will be at the forefront of the industry and will take care of all your appellate needs, as we have throughout the years. I, LaFon, Lora and the 90 other Counsel Press team members will be there to go through these changes with you and we're all very excited about what the next 20 years will bring to us in the appellate practice world.
Tagged: Appellate Services, Appellate Practice