Counsel Press has been voted Best Appellate Printer of 2012 and 2013 in the New Jersey Law Journal's Rankings. If we've provided you with the best service this year, please share that in the new 2014 rankings survey (link below). We greatly appreciate your votes!
Any law firm staff anywhere in the nation may vote in this survey - there is no geographic restriction. Please vote for Counsel Press in the following two nominations:

• Best Appellate Printer
– Section "Litigation Support", Item 35 – Counsel Press
• Best Legal Research Service
– Section "Research News", Item 48 – Counsel Press Legal Research Group
http://www.surveymonkey.com/s/NJLJBest2014
The voting period begins September 2 and continues through September 22.
Please note that you are not required to vote in every survey category. You can make your choices in the above categories only. However, you MUST click to the end of the survey and then click "Done" for votes to be submitted.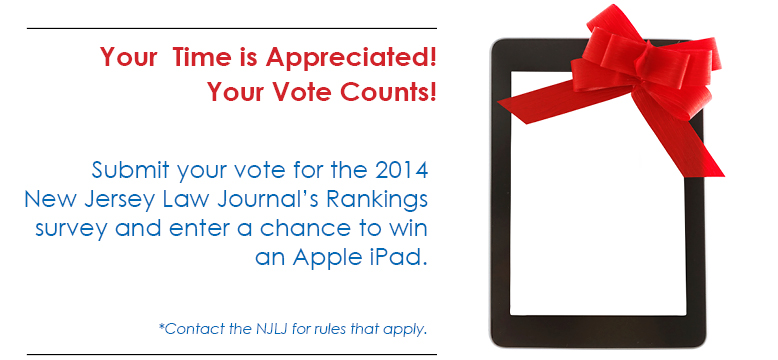 * For contest rules, contact the New Jersey Law Journal - Vivian DiStaso at 973-854-2910. Contest not sponsored by and not affiliated in any way with Counsel Press LLC.
Counsel Press serves our attorney clients from within 12 physical locations nationwide, including 6 with state-of-the-art production facilities. Our services focus on the rule compliant service and filing of all appellate matters, and also include divisions specializing in filing within the Supreme Court of the United States, cutting-edge eBrief technology, on-demand legal research and writing for our attorney clients and real estate development and offering plans. Last year Counsel Press assisted over 7,000 customers, located within all 50 states, with over 8,500 filings in 81 jurisdictions nationwide and internationally.